CONSTRUCTION MANAGEMENT
JN Cornell Associates has the expertise to be a representative for the owner, developer, lender or contractor for a variety of projects, or perform individual specific project assignments.  Our Services range through the phases of due diligence, design, construction, and move-in.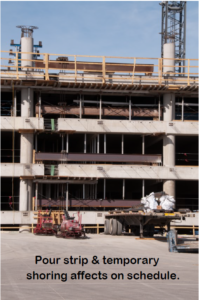 Scheduling (Primavera P6, Microsoft Project).
Constructability reviews during design and construction, including in-depth review of drawings, details and specifications, with a specific focus on ensuring all documents are harmonized.
Development of  custom concrete  specifications.
Quality assurance of the design documents.
Quality control of construction processes and activities – Development of a written QC Program, as well as implementation services.
Productivity measurement, identification of Key Performance Indicators, development of a written Productivity Program, and jobsite staff training in productivity management.
Planning and construction means &  methods.  Example is to study the pour strip affects on the schedule to optimize costs and time.
Estimating services – Including conceptual estimating, or GMP estimate peer review of the project or change order analysis throughout the project.
Issue resolution and troubleshooting of discrepancies in the construction process.
Training services and troubleshooting concrete material science and concrete mixtures.
LITIGATION SUPPORT
As a licensed engineer, and a Fellow in the American Concrete Institute with an expert level of knowledge in concrete specifications, practical construction mean and methods, and utilization of ACI specifications and guides, JN Cornell Associates bring together the design professional and craftsmen, to the reality of the Contract Documents.
Review of Contract Documents along with the boundaries of responsibility of the team members.
Peer review of the Contract Documents.
Review of contractor's construction means & methods.
Project scheduling and change order scheduling.
Structural framing systems, along with the respective formwork and reshoring systems.
Tolerances of concrete, as well as other systems such as glass and glazing.
Concrete material science and the application of means and methods.
QUALITY CONTROL
Design Documents
Constructability review of design documents.
Quality assurance review of contract documents.
Coordination of respective concrete specifications and notes.
Concrete Specifications
Constructability review of concrete specifications.
Quality assurance review of concrete specifications.
Customization of your project to ACI reference specifications.
Construction Quality Control
Contract Document constructability review.
Site planning logistics, including the planning and optimal utilization of cranes, staging areas, craftsmen and material flow, logistics, as well as site safety review of ingress / egress of emergency personnel.
Coordination of tolerances with concrete structural elements and reinforcing, precast components, structural steel, glass & glazing systems, elevators, and architectural concrete.
Third-party submittal reviews

Formwork, reinforcing, post-tensioning, structural steel, precast, and architectural concrete.

Third party construction inspections

Formwork, reinforcing, post-tensioning, concrete mixture optimization, concrete material quality control, means and methods optimization, carton forms, facade, waterproofing, architectural concrete.

Development of a QA/QC Program for construction activities such as formwork, reinforcing, concrete quality, carton forms, and curing

Troubleshooting construction activities to generate higher productivity.
Troubleshooting construction activities to resolve poor results.
Analyze and recommend concrete repair procedures.
Training programs to implement QA/QC Programs.
TRAINING
Provide customized classroom instruction for the design professional or jobsite staff.
Utilize In-the-field classroom, i.e. teaching how to inspect the formwork system prior to a concrete pour.
Preparation of white papers or position papers on a significant issue(s).
Development a specific training program for teaching real-time productivity measurement by field supervisors.
When you are considering a trusted partner, remember JN Cornell Associates provides construction and project management, quality control, concrete specifications and analysis, and litigation services to our clients. Our vast expertise is on your side, contact us today.
JN Cornell Associates provides construction management of projects, litigation support (expert witness), design document and constructability reviews, development of concrete specifications, construction quality control program development/implementation and training programs.